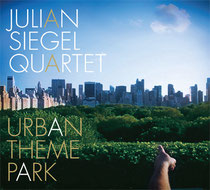 Julian Siegel Quartet
URBAN THEME PARK
New Album 'URBAN THEME PARK' available in Germany and Austria.
Uk release 18/04/11
Track Listing
| | | | |
| --- | --- | --- | --- |
| No |   | Title | Duration |
| 1 | | Six Four | 7.51 |
| 2 | | One for J.T. | 8.14 |
| 3 | | Heart Song | 6.49 |
| 4 |   | Keys to the City | 6.52 |
| 5 |   | Game of Cards | 12.50 |
| 6 |   | Lifeline | 4.51 |
| 7 |   | Interlude | 7.08 |
| 8 |   | Fantasy in D | 6.48 |
| 9 |   | Drone Job | 6.28 |
|   |   |   |   |
Appearances by
with Liam Noble, Oli Hayhurst and Gene Calderazzo.
Reviews
28/05/2011 Peter Bacon, The Jazz Breakfast
Oh wow! Even after a few hours' listening to a random selection of the finest CDs of jazz music from the last 50 years or so, this disc still leaps out. It's going to be hard to knock Urban Theme Park off the top of my "best" pile for 2011.
View full review
27/05/2011 Ray Comiskey,The Irish Times
this is a superb contemporary take on post-bop jazz.
18/05/2011 Edward Randell, OMH
With such a knack for drawing on jazz traditions while remaining fresh and forward-looking, the Julian Siegel Quartet are the perfect illustration of why British jazz is turning heads the world over.
View full review
06/05/2011 Ron Burnett,York Press
Urban Theme Park (Basho Records) is a new album from saxophone star Julian Siegel and his quartet, with Liam Noble (piano/keyboards), Oli Hayhurst (double bass) and American drummer Gene Calderazzo. Siegel is an award-winning multi-reed player and composer, who has worked with Hermeto Pascoal, Django Bates and Kenny Wheeler among others. Album opener Six Four is a joyful melody with infectious swing, Siegel's tenor saxophone taking flight with Noble's piano, simultaneously following dancing melodic lines which compliment each other in an empathetic journey. One For J T name-checks pianist John Taylor, adding playful influences of Brazilian master, Hermeto Pascoal, in its cheerfully syncopated melody. Calderazzo joins in with some powerhouse creativity, confirming his position as one of the top drummers around.The delicate ballad Heart Song has Siegel on clarinet, not often heard in contemporary jazz, is in cola voce mode with piano. Calderazzo whispering in with brushes brings the realisation of how beautifully this album is recorded, different effects from cymbals, snare drum and hi-hat. Urban Theme Park emerges as an important album for 2011.
27/04/2011 Bruce Lindsay, Allaboutjazz
Urban Theme Park has style. Siegel and his fellow musicians may not be short of other projects, but this one deserves some serious commitment, because there is plenty here to suggest that the quartet could become a real driving force in contemporary music.
26/04/2011 Kenny Mathieson, The Scotsman 4 stars
SAXOPHONIST and clarinetist Julian Siegel is one of the most consistently innovative and rewarding musicians on the UK jazz scene. This excellent (mainly) acoustic quartet features the dazzling piano work of Liam Noble and a fine bass and drum pairing in Oli Hayhurst and Gene Calderazzo. All are alive to the often tricky twists and turns of Siegel's music, which touches base on a wide range of stylistic influences
23/04/2011 MOJO
there's not a moment that doesn't fizz with ingenuity and imagination.
23/04/2011 Daily Telegraph
the most winning thing about this album is its irrepressible high spirits
21/04/2011 Chris Parker, London Jazz
Julian Siegel simply exudes class and thoughtful elegance.
Urban Theme Park is a polished, subtle but engagingly vigorous piece of work. An early candidate for CD of the Year
View full review
18/04/2011 Martin Longley, BBC Website
Mastering much of the saxophone and clarinet families, Siegel carries an assurance that his works will always feature a captivating tonal spread. The latest line-up for this combo features pianist Liam Noble, bassman Oli Hayhurst and drummer Gene Calderazzo. There are many years of cross-pollination at play here, with relationships that have forged a unique musical bond.
View full review
16/04/2011 Mike Hobart, Financial Times
The UK multi-instrumentalist's evocative set of nine originals opens with the bounce of an urgent bass riff and closes with a slow-burning fusion of beats and electronica.
15/04/2011 John Fordham, The Guardian 4 stars
Siegel, bassist Oli Hayhurst, drummer Gene Calderazzo and the unquenchable Noble set the bar pretty high for the art of making idiomatic, eclectic contemporary jazz.
View full review
11/04/2011 Chris May, AllaboutJazz
It is a rare and beautiful conflation that gives Urban Theme Park, like all Siegel's recent work, magnetism and depth. Highly recommended.
View full review
07/04/2011 John Fordham, The Guardian
UK-jazz supergroup..is quintessential postbop jazz, its Joe Zawinul, Stravinsky and west-African references give it plenty of appeal among the non-cognoscenti, as well.
View full review
Cover design by Yoshiki Bann