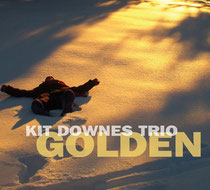 We are extremely proud to announce that "Golden"
the debut album by the Kit Downes Trio has been shortlisted for
the highly prestigious Barclaycard Mercury Prize 2010.
24 year old pianist/composer Kit Downes exploded onto the British Jazz Scene playing with the band Empirical, taking him through Europe and America, and then with Troyka, Fraud and Acoustic Ladyland. Two years on, Kit moved on to his own trio project and this debut album sees him developing as a strong voice both as a performer and composer. Joined by his two Royal Academy colleagues award winning 24 year old bassist Calum Gourlay and 23 year old rising drum star James Maddren the music displays a level of understanding and intelligence between players that can only come from working closely together for a number of years. They read each other perfectly. The band has spent these years developing their own personal sound. The highly original music is immediately arresting and stands repeated listening. It uses melody, inspired from a range of sources ranging from Bela Bartok to Keith Jarrett to Rufus Wainwright, and endeavours both to celebrate the classic piano trio tradition as well as develop it. The band will be appearing at the Barclaycard Mercury Prize Awards Show on Tuesday 7 September when the overall winner of the 2010 Prize will be announced.
For more information please contact:
CHRISTINE ALLEN OR IDA HOLLIS AT BASHO RECORDS
18, LINHOPE STREET, LONDON, NW1 6HT, UK
TEL 44 (0) 20 7724 2389 | FAX 44 (0) 20 7724 6817
Label Basho Records
Release Date: November 2nd
Title "GOLDEN"
Artist Kit Downes Trio
Catalogue Number SRCD 31-2
Kit Downes - Piano
Calum Gourlay- Double Bass
James Maddren- Drums
Tracklisting:
1 Jump Minzi Jump - 7.01
2 Golden - 5.16
3 Homely - 7.40
4 Power and Patience (the bear) - 7.05
5 Madame - 5.156 A Dance Took Place - 7.28
7 Roots - 6.58
8 Tom's Tune - 6.24
Total time - 53.11
Cover design by Yoshiki Bann